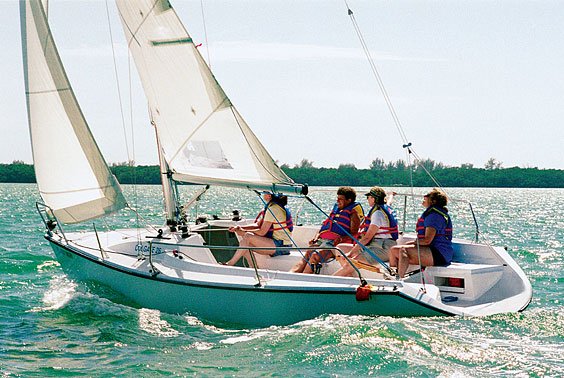 Ashwater is a mini yacht that club members have use of. She was generously donated to TYST, by a family in the club membership.
She has a cabin, with storage and even a couple of bunks down below. She has a large cockpit which would comfortably take 6 people. She is tiller steered with a small permanently mounted 5hp outboard on the transom. Designed as a training boat, the sail systems are simple and manageable. There is even a spinnaker for those adventurous souls. The agreement with TYST allows members a radius of use of 10 miles, when not being used for training. This brings Dartmouth as the furthest port to investigate to the west and Teignmouth to the east.
Costs: a typical 24 hour use has a fee of £100. The maximum number of consecutive days to be booked is 7.
Stage 1 – Approved Users
To keep Ashwater in safe hands the club are running an approved user's list. The outcomes of this application to be on the list are, acceptance, deferred until a course is completed, denied ( hopefully rare!).
Stage 2 – Book and Pay online
[CP_APP_HOUR_BOOKING id="9″]
Stage 3 – Make contact with the club office
When you have paid for your booking your booking will go into a pending state. The Club Office will check that the booking is free of any unexpected problems and change the status to confirmed. when you get this email make contact with the office to organise the collection of an "Ashwater Pack" – this will contact copies of the Conditions of Use, and an inventory and checklist. Information on how to access the boat.
Stage 4 – Predeparture inspection
The club has no bosun so a lot goes down to trust and belief in our club members. Having said that we have created a checklist, to make sure everything is onboard for you to have a safe trip. Whilst not required it is suggested that you take photos, as you might if hiring a car.
Stage 5 – Enjoy the Boat
Use the boat for your booked time, this should be the fun bit!
Stage 6 – Pack the boat
As we said above the club is run primarily by Volunteers, so the boat needs to be left as it was found. This means that all rubbish needs to be removed, and ideally the boat rinsed off. When you are happy with the state of the boat, run down the checklist for departure, and return your documents to the club office when it is next open. If you have any incident, this should be reported to the office.
Conditions of Use
There are a list of Conditions as you might expect for reference here is a copy